Last weeks message postulated that Tesla (NASDAQ:) stock was in the midst of a substantial breakout and since then Tesla shares have roared to life up 34% since last weeks message. So what now?
Another positive development this week is the also had its own breakout notching a +11.26% gain in January so far recording its best gain since 2001, another tailwind for stocks could also be an estimated $4 billion in corporate shares being bought each day during the open window which closes in 15 more days, (buy back blackout period ended Friday) and historically the Nasdaq performance on average goes on to advance another 14.1% for the remainder of the year after a 11% gain in January.
Netflix (NASDAQ:) and Meta Platforms (NASDAQ:) also notched their 4th straight week of gains making it the longest winning streak since 2020, the Nasdaq did close above the elusive 200 day moving average and also marginally broke above the December high with market breath indicators also appearing much more supportive compared to last month with now over 49% of Nasdaq stocks trading above their 200 day average line up from 33% mid December, the index is however testing the 200 day resistance line so the next technical hurdle for this breadth metric needs to attain a close above the red line to avoid further losses.
The technical backdrop is also improving with a clean break above the 200 day line also which is encouraging and very close to a "golden cross" where the (50 day-line crosses above the 200 day-line) and with 2/3 of all SPX stocks trading above their 200 day line rising to the highest level since last August (right at all time highs).
While the has lead tech stocks higher breaking above their December highs, the rally is also however fast approaching significant overhead supply… If the index closes below the 200 day-line this week, that would increase the likelihood of a re-test of 3943 (blue line below) should SPX be unable to recapture the 200 day line quickly.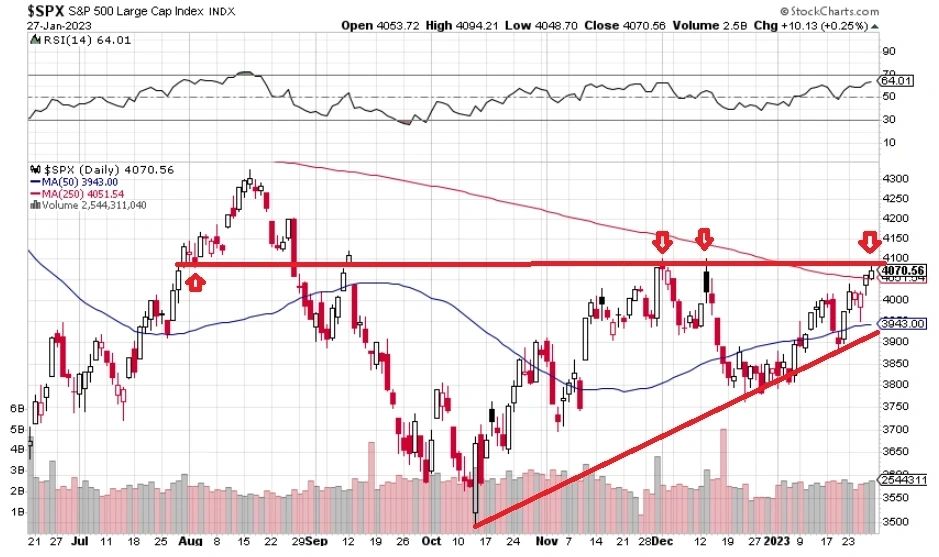 The S&P 500 has not broken above the December highs as of yet, but is close, the next technical hurdle for SPX to overcome is a break and hold above the December highs above 4101 or near $411 on SPY to achieve a higher high and higher low, something SPX has not seen in over a year, also encouraging is the S&P 500 was able to close above the 250 day-line as well, (for now) must hold support for SPX is the 200 day line at 3957 – the good news is that January has also seen a shift away from the defensive sector leading stocks higher and into the consumer discretionary and technology sectors leading the way higher.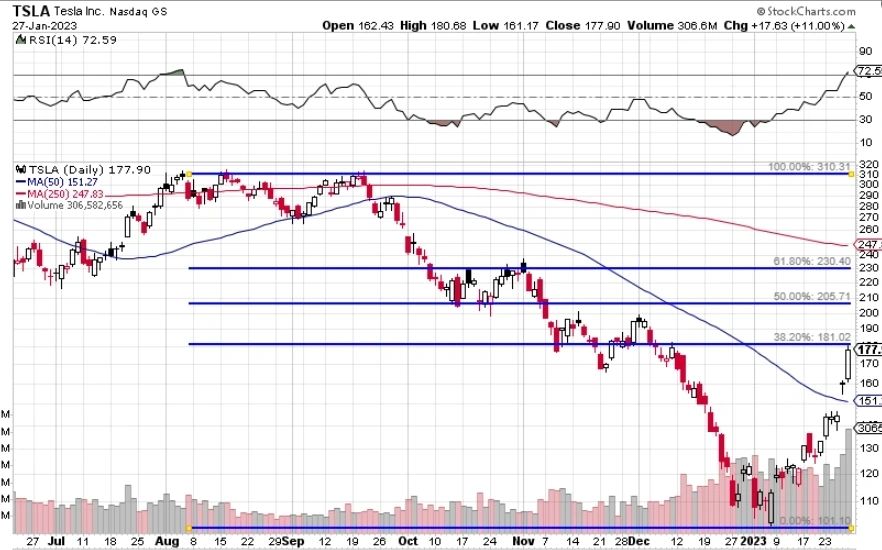 TSLA has been absolutely crushing the shorts all January with shares of the EV giant up an incredible 77.7% off the January lows, absolutely incredible – the next resistance target range is 185 to 195, if price doesn't get there before FOMC on Wednesday I would expect a consolidation or retracement back to 165-155 range, a close below 150 would increase the odds potentially of a 138 test.
TSLA ran into 38,2% Fibonacci resistance on Friday and backed off that long term resistance with our members locking in profits at 178 *from our buy alert at $133 just5 days earlier, the next Fibonacci containment is near 205.71 however the FOMC on Wednesday around 2:30PM could stress out the market, not saying it will for sure just driving home the fact that investors will be almost definitely be tripping over themselves to be locking in gains ahead of or after that event, with the Nasdaq and SPX both running into significant resistance just above Fridays close, the profit taking is likely to start on Monday or Tuesday ahead of JPOW.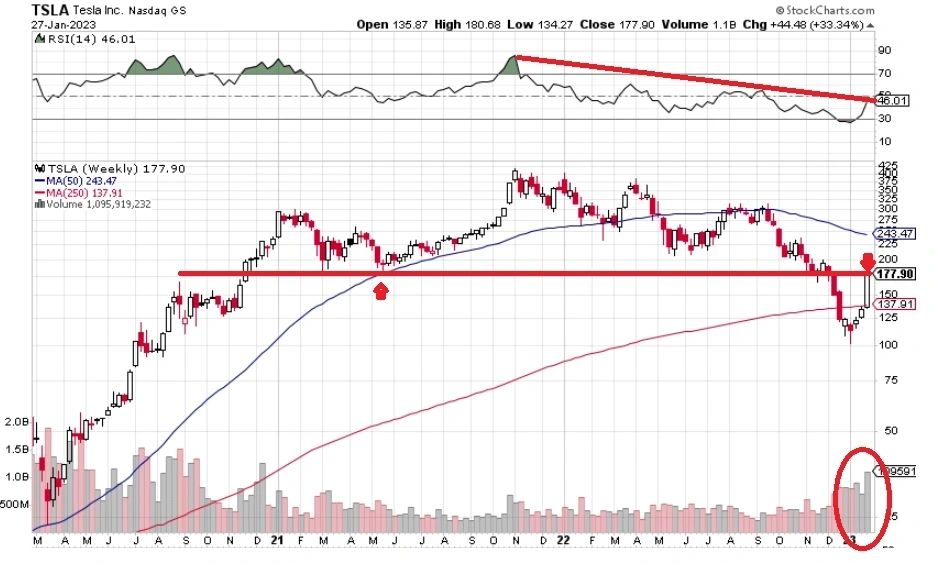 One other technical event that could hinder the next leg up in TSLA in the short term is the March and May lows of 2021 and Fibonacci confluence which is exactly where TSLA found resistance at on Friday on VERY high volume, as a matter of fact TSLA shares changed hands on Friday on extremely heavy volume with shares volume up +205% (307M shares) versus the typical 132M shares of daily volume, 3x volume is either a climatic impulse or one of the signatures of institutional distribution.
***
Our trading group has been trading TSLA on just about a DAILY basis for years, and we have our own parameters set on indicators just for TSLA, that don't work with SPY and vise versa, to follow our TSLA or S&P 500 trades in real time, join us.
Credit: Source link