Since the beginning of the year, the stock market has surprised many investors with a significant recovery
Yet, investors remain wary of a pullback in equities, fearing a fake rebound and a possible recession
Stocks have generally done well during times of high unemployment
Indexes around the world have rebounded strongly since the start of the year:
: +8.58%
: +8.79%
: +9.29%
: +4.7%
: +4.62%
: +5.68%
Also, from a technical standpoint, it is for the first time since the bear market's start we had a close above the descending trendline that until now has blocked any attempt at recovery.
Despite all the positive indicators, many investors remain skeptical and fearful because the unexpected collapse burned them in 2022. Naturally, they do not trust the current rally because they fear it is a fake rebound.
However, as I always say, if you invest long-term, it shouldn't worry you if it goes back down. That's how markets behave.
I believe that those who cannot understand what they are buying simply should not buy. For them, Eni (BIT:) may be a better choice for now.
An interesting analysis of how stocks have fared in times of recession historically showed that stocks have risen during times of rising unemployment.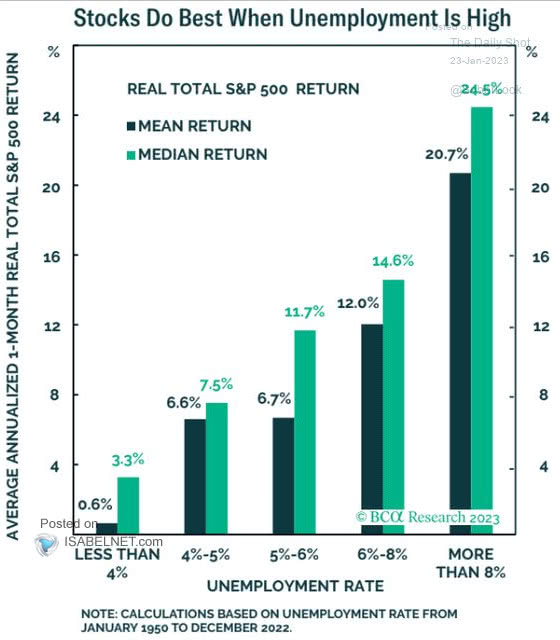 Stock Returns Vs. Unemployment Rate
So if someone tells you, "be careful investing in stocks, if a recession comes, the markets will fall," they simply do not know what they are talking about.
We are surrounded by talk, incompetence, and people who profess to be experts on this or that.
The truth is no one knows anything about the future, and people try and sell certainty in an uncertain and fickle environment. Instead, learn to live with uncertainty and stay focused on what you can control. Sound financial planning is the first step when approaching markets.
Disclosure: The author is long on ENI and the S&P 500.
This article is written for informational purposes only; it does not constitute a solicitation, offer, advice, counsel, or recommendation to invest as such, it is not intended to incentivize the purchase of assets in any way. I would like to remind you that any type of asset is evaluated from multiple points of view and is highly risky and therefore, any investment decision and the associated risk remains with the investor.
Credit: Source link