China's reopening economy boosts European basic resource stocks
U.S. Futures rise after underlying benchmarks finish lower on Friday
Oil jumps despite OPEC+ production boost
Key Events
On Monday, US futures for the , , , and all jumped along with European shares on hopes that loosening lockdown restrictions in China will help avoid a global recession. However, investors are eyeing this week's release of US inflation data and Thursday's European Central Bank meeting.
Treasury yields edged higher while the US dollar slipped.
Global Financial Affairs
All four US contracts were green this morning, with futures on the tech-heavy outperforming, followed contracts on the small cap . European shares, on the other hand, were led by cyclical stocks.
The Index opened higher and extended a rally led by basic resources and miners, as the demand outlook out of China improved along with easing restrictions.
The European index rebounded from a weekly decline of 0.9% in the face of tightening fiscal policy. Also, the UK's , which includes commodity companies, jumped as much as 1.1% today, hitting its highest level since April.
The UK benchmark is set to finalize an H&S continuation pattern that would complete its upside breakout from a Falling Channel in place since the index's mid-2018 high.
Earlier, most regional Asia indices rose, except Australia's . Investors in the land down under were bracing for the 's second interest rate hike, expected Tuesday local time. The rose.
As China's economy restarted, the jumped 1.3%, outperforming the region.
On Friday, all four major American indices, the , , and , all returned to their recent string of weekly declines, ending a surge that boosted the benchmarks earlier in the week.
Shares of EV automaker Tesla (NASDAQ:) weighed on markets after CEO Elon Musk sent an internal email to the company's executives saying he had a " about the economy and that the electric carmaker needed to cut the company's salaried workforce by 10%.
Though Friday's monthly print came in better than expected, it was another case of good news being bad for markets. Investors saw the positive results as a sign the Fed will continue tightening rates as the economy continues to percolate.
Current bets another half percentage point hike after each of the next two meetings while pricing in an 85% chance for a similar third hike in September.
Treasury yields, including for the note, ticked higher.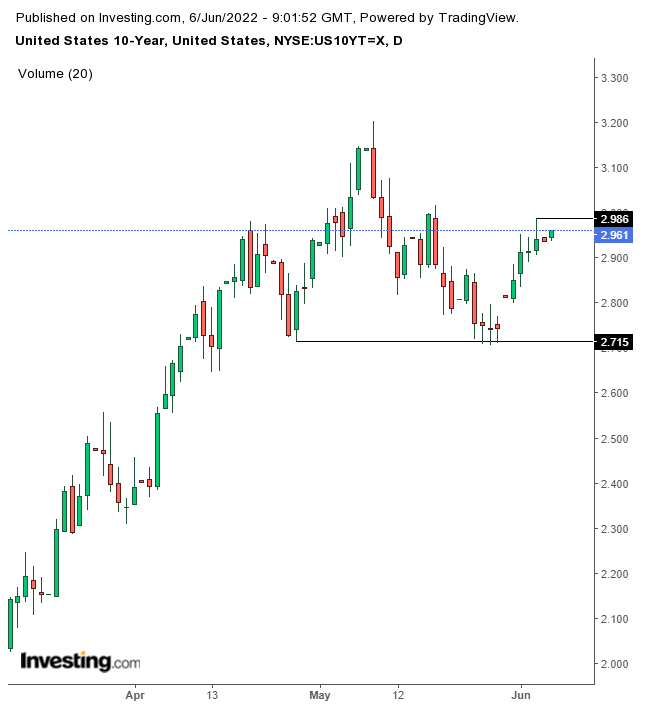 Yields still have to overcome Friday's Shooting Star in order to blow out an H&S top. That scenario could occur if economists believe we're heading toward peak inflation and they agree with the Goldman Sachs prediction that the economy will have a soft landing.
opened higher on weakness.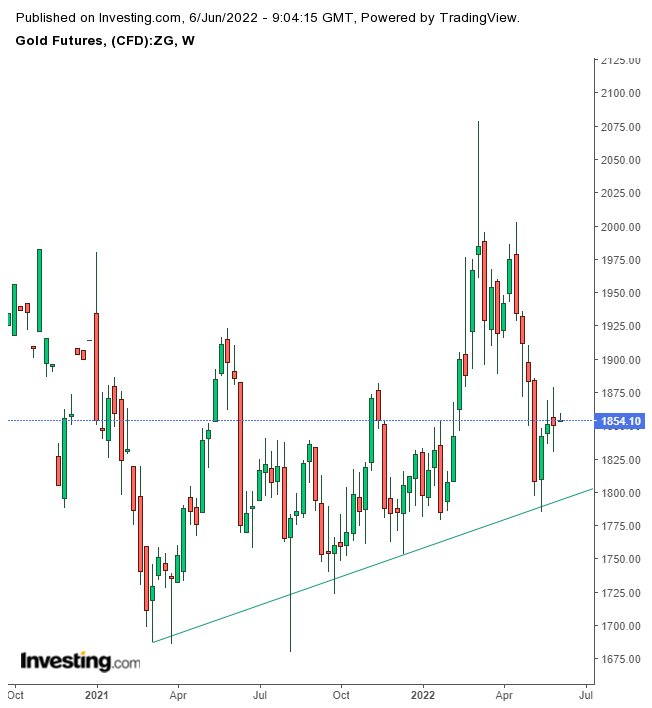 However, the yellow metal's direction is unclear after last week's weekly High Wave Candle. Traders drove the precious metal's price up and down, only to have it close little changed. This suggests a lack of leadership after the price rebounded off its uptrend line.
rose but continues to struggle at a crucial support/resistance level.
A return below $30K could mean the cryptocurrency had completed a massive double top; this would then point to a further decline headed toward the lower thousands.
opened higher for the third day after Saudi Arabia raised crude prices for July. According to a , "doubts remain that an increased OPEC+ monthly output target will help ease tight supply."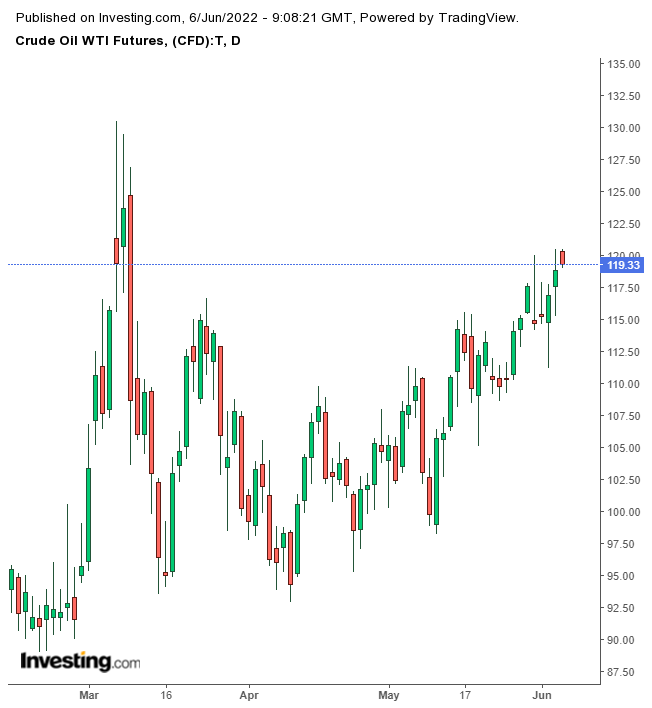 Nevertheless, oil is finding resistance by the May 31 intraday high for a fourth straight session, as the price approaches the highest levels since 2008.
Up Ahead
Reserve Bank of Australia policy decision is released on Tuesday
World Bank's "Global Economic Prospects" report prints Tuesday
Reserve Bank of India announces a Wednesday
European Central Bank plus on Thursday
Market Moves
Stocks
The MSCI Asia Pacific Index rose 0.6%
The rose 0.9%
Currencies
The rose 0.2% to $1.0745
The rose 0.6% to $1.2559
Bonds
Germany's yield rose one basis point to 1.28%
Britain's yield increased six basis points to 2.22%
Commodities
rose 0.6% to $120.39 a barrel
was little changed
Credit: Source link