S&P may enter bear market as futures drop
Some traders expecting 0.75% interest rate hike
Oil slumped
Key Events
Futures contracts on the , , , and and global stocks crashed lower on Monday after markets had already slumped on Friday following the announcement of higher than expected US inflation figures. Some market analysts are now expecting the US Federal Reserve to raise by 0.75% when it on Wednesday. 
Bond yields on longer dated Treasuries continue to rally.
Global Financial Affairs
All four US contracts were deep in the red to start the trading week, having extended a decline that began with a gap down last week. are 1.75% in negative territory, and contracts on the tech-heavy NASDAQ 100 continue to take the brunt of the selloff, down 2.5%. The Russell 2000 was the second-worst performer.
In Europe, the Index opened about 0.5% lower, extending a decline to its fourth straight day, and the third consecutive falling gap. The pan-European gauge has fallen to its lowest levels since March 2021.
Global markets have been in free fall since Friday's data release showed US was at a fresh forty-year high of 8.6% with shelter, food, and gas the most significant contributors.
The announcement sparked a bond selloff, putting the Fed in a precarious position: steepen the path to higher interest rates or allow inflation to keep getting hotter. In this "game of chicken" between Treasury traders and policymakers, the Fed will have to balance on an ever-thinner line between chasing inflation and overdoing it, causing a recession.
Yields on the note hit their highest level since November 2018 as investors are dumping bonds with long maturities in favor of short-dated bills. Another 0.25% hike will take bond traders to yields not seen since May 2011. Rising yields are also bearish for stocks because they offer an alternative attractive investment.
In a mirror image to stocks the opened higher for the second day in a row. The greenback is now at its highest since May 12 and 0.35% below its 2021 high.
opened lower on dollar strength.
slid for the seventh consecutive day and is now trading below $25K to its lowest level in 18 months, again disproving the idea that the cryptocurrency is an inflation hedge or store of value.
The token completed a bearish flag, which helped bears achieve a massive double-top which we have been waiting for since .
opened sharply lower. The price has been falling for three days straight and is now below $119, as cases of COVID in Beijing increased again.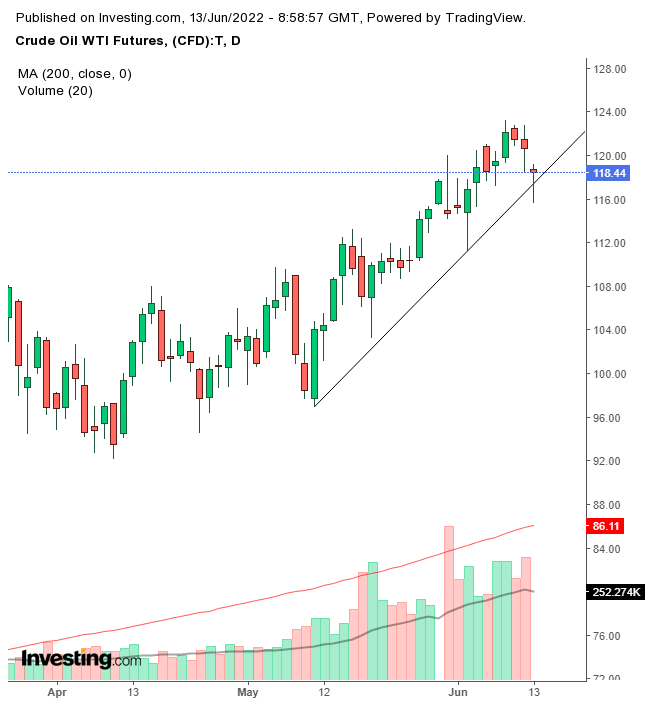 The news upended hopes of China easing restrictions some of which have  contributed to the worst inflation in four decades. 
Up Ahead
The German survey for June is published on Tuesday.
US figures are released on Tuesday.
On Wednesday, US are printed. 
Market Moves
Stocks
The MSCI World index fell 1%
Currencies
The fell 0.4% to $1.0474
The fell 0.7% to $1.2225
Bonds
Germany's yield rose four basis points to 1.6%
Britain's yield increased two basis points to 2.49%
Commodities
fell 1.6% to $120.05 a barrel
fell 0.8% to $1,861 an ounce
Credit: Source link